Open Coaching Positions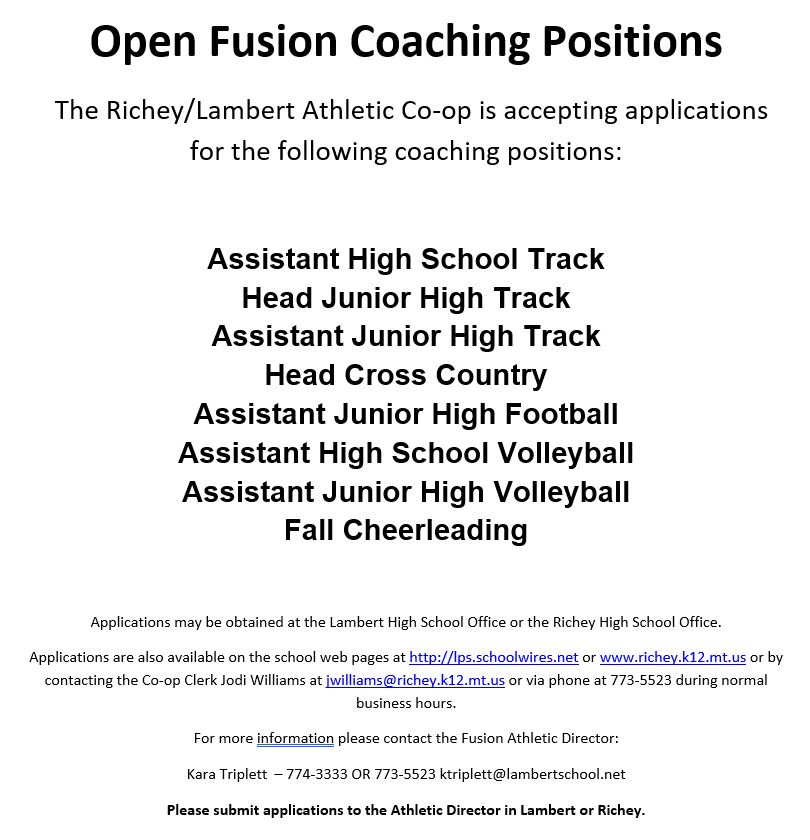 ---
Open Fusion Coaching Positions
The Richey/Lambert Athletic Co-op is accepting applications for the following coaching positions:
Assistant High School Track
Head Junior High Track
Assistant Junior High Track
Head Cross Country
Assistant Junior High Football
Assistant High School Volleyball
Assistant Junior High Volleyball
Fall Cheerleading
Applications may be obtained at the Lambert High School Office or the Richey High School Office.
Applications are also available on the school web pages at http://lps.schoolwires.net or www.richey.k12.mt.us or by contacting the Co-op Clerk Jodi Williams at jwilliams@richey.k12.mt.us or via phone at 773-5523 during normal business hours.
For more information please contact the Fusion Athletic Director:
Kara Triplett – 774-3333 OR 773-5523 ktriplett@lambertschool.net
Please submit applications to the Athletic Director in Lambert or Richey.